WARNING: MY APPLICATION IS VERY THOROUGH SO IT IS ONLY TRULY MEANT FOR THE OWNER SUNLINK, AND SUNLINK ONLY. THANK YOU.
1. My Runescape Username is Jarrettholt2.
2.This is me advertising your clan channel I_Sunlink_Pk ( the words kept disappearing lol.)

3.I want a rank in this clan chat because i believe i could be a huge asset to your clan chat. I am a solo and a Clan Merchant. Also i have been a subscriber of your videos for about 7 months, and, i would like to get the chance to talk to you. I continue to advertise your clan, and stay up to date on price changes. Believe me i Know my way around the grand exchange as you will see in pictures below. I know items price drops, rises, and will be a huge help in terms of deciding an item as well. I have looked at other applications and i feel that i am over qualified for this position. I have major Merchanters added and have ranks in some of their clans, such as chessy018 (lieutenant),Moneypascal1(general) (a solo merchanter), A C I D Y (was a corporal)( last year, he closed his chat although i still talk to him). I feel by joining this clan, I can further my wealth, and the wealth of others, and in time earn my sought after partyhat set. (Ive had 3 at a time). Evidence below shows, me buying The rings, as well as my offers for more. Some of my wealth was obtained at Tormented demons, ect. (200m). The rest was obtained when i started merchanting, a little over a year ago, when i was unknown. So heres my Evidence as follows.

My first claws were with a lootshare with oofury pkoo, the rest of my claw drops, were all solo, I have pics if you want them.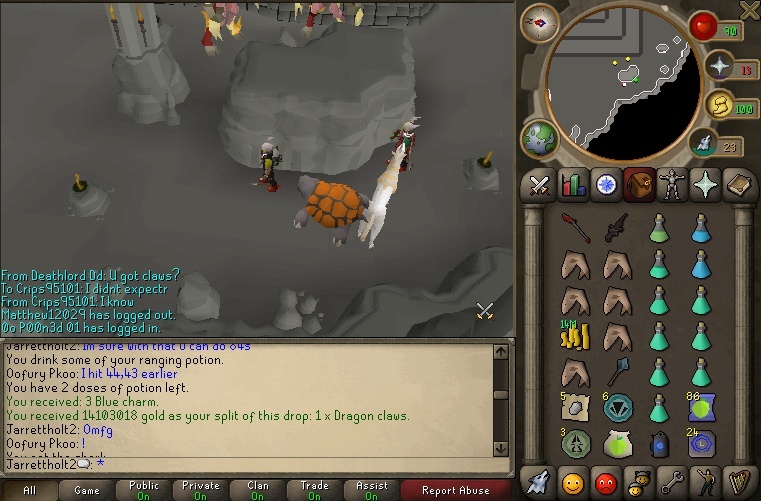 4. Yes I have 300 of the item now. when i have all of them i will have a total of 109,000,000 gp in rings.
5. Yes i have over 50m, Total I have 362m give or take a few mil, because i Am working on summoning at the moment lol as you can see

and so I need to dump some mills into that, but no need to worry, my skilling money, is separate from merchanting money, i always have 30-100m spare cash on me, so were good

Thank you for your time and consideration, and im very sorry for the lengthy application.
This is probably you right about now